10 Cool Desktop Blogging Clients:
Do More With Your Blogs
Third-party blog services like Google's Blogger or Wordpress are used by millions of people with something to say. Unfortunately, these services come with a couple of significant problems.
First, before you start blogging on Wordpress.com, read the Terms of Service (TOS). Carefully. One critical limitation jumps out at you. Wordpress prohibits blogs that "sell" services or products. So, if you're a lawyer who posts free legal advice to her Wordpress blog, and provides a link to her law firm's website, that blog will likely be banned.
There are lots of cases in which useful blogs have simply disappeared because Wordpress considered them to be commercial, even if these blogs provided good, solid, useful information.
The second problem with these popular blog services is that they're limited in what they can do. Oh, you can post a picture or add some pre-constructed widgets, but the fact is that Blogger, Wordpress, TypePad and other third-party blog services are template driven, limiting how your blog looks. In fact, because bloggers choose from a limited selection of templates, blogs on the most popular platforms all look alike.
Desktop blogging clients are more sophisticated than their baby brothers and sisters. Desktop blogging clients function more like a website with an administrator's desktop console to control the look and feel of the blog.
These desktop blogging apps function across different platforms, a real time-saver for the professional blogger who posts to numerous blogs on a variety of platforms each day. A single, desktop client enables pro bloggers to post to numerous blogs from a single application.
However, each desktop blogging client has unique functionality when it comes to managing blogs on different platforms. However, there are plenty of desktop blogging clients from which to choose. Just do a little digging to find the application that suits your particular blogging needs.
Be sure to check the features offered by any blogging client you consider. For example, some come with strong spell checkers. Others don't have any spell checker, which means you have to create the post in a word processor, then cut and paste it into the blog. When you're posting to six or seven blogs a day and getting paid to do it, you want to streamline the posting process as much as possible.
When shopping around for the desktop blogging client that best suits your needs, here are the important considerations:
1. Can you post through any server?
A good blogging client allows you web access via Linux, OS X, Work on Windows and other server-side platforms. This way, you can post to your blog from anywhere.
2. Does the desktop blogging client work with my blog platforms?
Not all do. But, with a little research you'll find one that works on your blogs, even if they're hosted on Blogger – the blogging app with the least client support. If the blogging client you're considering syncs up with Blogger, you're probably covered.
3. Does the blogging client have a WYSIWYG editor?
Again, if you can create and layout your posts in a WYSIWYG editing window, it saves time and all those extra steps to cut and paste from a word processor, upload pictures or graphics separately, re-position images and other repetitive chores.
A WYSIWYG editor allows you to create a post within the blog platform so no cut and paste is required. No reformatting, either. What you see is what you get. WYSIWYG.
4. Does the desktop blogging client provide content management options?
Specifically, category control. In which categories do you want a post to appear? And when? A good blogging client puts you in control of category management, enabling you to expand or reduce the number of categories you employ.
5. How much does it cost?
Some really good desktop clients are free. Some cost a few Euros each month but not enough to put a dent in the pro blogger's margins. While cost is always a factor, in the case of desktop blogging clients, the costs are insignificant when weighed against the value these apps deliver. So don't let cost be the sole, determining factor in your choice.
6. Does the client add tags automatically?
Through the administrator's console you want to be able to tag your posts to social bookmarking sites like Digg, Reddit, technorati, del.icio.us and other tag services – with a single click. Another time saver.
7. Does the client enable advertising?
The desktop blogging client should handle adverts from a variety of sources – pingoat, ping-o-matic, weblogs, Ping Technorati and other ad placement services.
8. Does the desktop blogging client enable custom markup?
If you're serious about your blogs you want to be able to create and upload your own HTML code snippets across all platforms. Your blogging client should make it easy to add or delete code on the fly and from any location.
There are dozens of desktop blogging clients from which to choose. Here are some of the most popular, and certainly clients to consider before making your final selection. You just might find something better than your current app.
Check out these blogging clients to see which does the best job for you.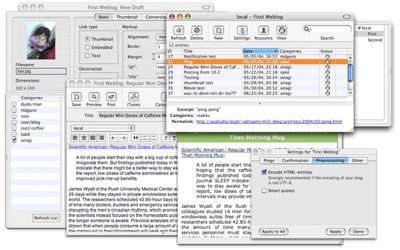 Ecto Windows/Mac, free trial, $17.95, supports TypePad, Drupal, SquareSpace, Blogger, Blojsom and other popular blog apps
Bleezer Windows/Mac/Linux, free, enables custom markup, WYSIWYG editor
Live Writer Windows XP/Vista (only), free, developed by Microsoft
Flock Windows/Mac/Linux, free, download 2.5 for upgrades
ThingamaBlog Windows/Mac/Linux, free, supports all third-party blogging services
Gnome Linux, WYSIWYG editor, applet or stand-alone app, strong spell checker
Blogjet Windows (only), free trial, supports Wordpress, Blogger, BlogHarbor, etc.
Deepest Sender runs inside Firefox, SeaMoney, free, supports Blogger, meta Weblog
Drivel Journal Editor Linux. Free, supports most third-party blog services
Newz Crawler Windows (only), free trial, easy custom mark ups
There are other options, but these will get you started.
If you're serious about blogging, if you're a pro blogger – even if you use one of these desktop blogging clients, check out some of the other cross-platform blogging apps available.
Cut down on your content creation and posting chores with the right desktop blogging client, and get serious about your blogs.